Azure in 2018: The Year in Review
As we head towards the end of the year, I wanted to take a look back over all the Azure updates and announcements we have seen throughout this year and review some of the highlights.
Based on the data from the Azure Updates site, we have seen 842 updates and announcements throughout the last year. As you might expect we've seen the number of announcements increase month on month, up to the big announcement windows of Build and Ignite.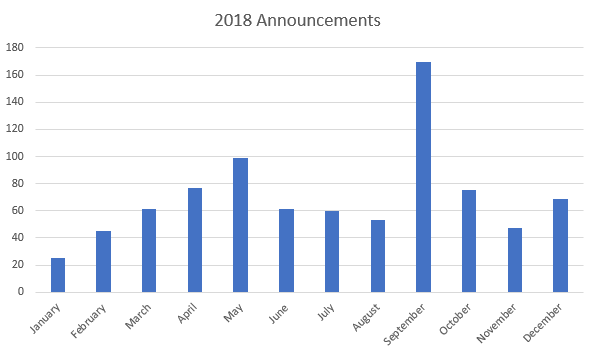 We can't cover all 842 announcements here, so instead let's take a look at some of the highlights (at least from my perspective) of the year, and the areas that if you're not already aware of, you might want to look into. I am sure there are things I have missed, or not highlighted, feel free to bring them up in the comments! I'm also only covering the main Infrastructure, PaaS and Serverless announcements here, areas such as big data and IoT are not something I've kept up enough with this year to be able to summarise.
2018 Announcements Highlights
Compute
Networking
Storage
Serverless and Containers
Databases
Operations, Management & Governance
Security
2019 Wish List
We've looked back at this year's highlights, so let's look forward now to 2019. I'm sure we will see lot's of new products and improvements to existing ones, here are some things that are on my wishlist to appear in 2019 (no NDA information here, just things I would like to see) :
Better monitoring story - there are still too many different products available for monitoring Azure services (Log Analytics, Azure Monitor, App Insights, Service Health etc.), too many overlaps between these services, and large gaps where things are not monitored well. I want to see 2019 be the year that this gets sorted out and we get a cohesive monitoring story
AKS support for Windows - Obviously a lot of this is dependent on upstream Kubernetes, but hopefully, this is the year we see Windows support make it into AKS. This is vital to being able to modernise some legacy Windows apps at least partially
Expansion of the Virtual Node concept to provide a full PaaS offering for Kubernetes in Azure. I don't want to manage servers if I don't have to!
Continued expansion of Managed Identity, so we can use this anywhere we need to provide applications access to Azure services.
Expansion of the Azure Files AAD integration to no longer require the use of AAD DS
On the subject of AAD DS, I would like to see it finally support the ability to deploy to multiple regions and multiple instances
I'd like to see Azure Front Door implement the full range of OWASP rules currently supported by App Gateway; this would then provide a great PaaS solution for protecting Azure Web Apps, where it is a pain to deploy App Gateway
Azure Firewall was a great new solution for 2018, but if you're implementing many firewalls, it can be a pain to manage rules on each different instance. I would like to see a way to manage these rules centrally.
I'm sure 2019 will bring lot's of exciting new services and features, and probably lot's of frustrations and issues as well, but that is the fun of working with the ever-evolving cloud. Here's to a fun and exciting year, happy new year!
Image Attribution
Fireworks flickr photo by Lens_Flare shared under a Creative Commons (BY-NC) license